The first 100% digital service for protecting your work.
Musicstart is a service that delivers a certificate establishing the anteriority of your works that can be used in case of litigation. This can be done in less than 2 minutes and at any stage of the creation process!
What is the goal?
Obtaining proof of authorship in a secure and transparent way using blockchain technology.
What are the main advantages?
The service is free for Sacem members
It is simple to use (a fully online process that takes just a few clicks)
You get proof of anteriority via a certificate that is valid for life and saved in the blockchain
Sacem is your trusted third party
> Go to your member account > My dashboard > Protect a work with Musicstart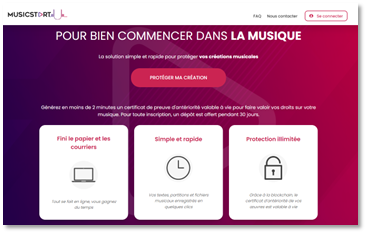 Important information
Musicstart is replacing provisional works registrations
As the submission of the sound file or score and text is optional for some works, use Musicstart to obtain proof of authorship of your works.
Listing a work on Musicstart does not entitle you to royalties. You absolutely must register your works with Sacem as early as possible before they are broadcast or listened to.
> Consult the questions and answers on Musicstart
> Consult the procedures for registering works
Published March 15 2023