Sacem has set up a system for exceptional authors'rights remuneration specially adapted to the livestreams played during the difficult period we are experiencing.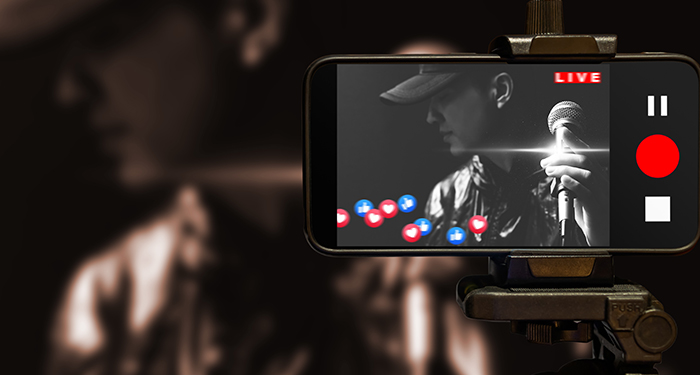 Faced with the cancellation of live shows due to the health crisis, many of you have invested in the Internet by offering concerts, DJ sets or sketches of your works, usually free of charge.
Collection of royalties
Sacem has agreements with most platforms for the use of its repertoire and is thus compensated accordingly. This is particularly the case with YouTube and Facebook/Instagram. Contracts are being negotiated with other platforms.
The new specific distribution calculated using the sums collected from the platforms concerned to compensate livestreams.
Livestream identification
The music recognition tools of the platforms have not been developed to identify live performances which are therefore not reported to Sacem.
To benefit from a distribution, you must provide us the following information:
Livestream date
List of works performed
Platform name
Link to the livestream
Duration of the livestream
You can now register your livestreams online on your member account.
Distribution methods
In light of the exceptional situation, compensation for livestreams broadcast free of charge will combine two elements: a minimum amount + an additional amount based on the number of views.
Minimum amount allocated:
Livestream of a title (lasting approximately 4/5 min): €10
Livestream lasting a maximum of 20 min: €46.35
Livestream lasting more than 20 min: €76
Additional compensation:
For example, if you performed a livestream lasting 15 min which was viewed 10,000 times, you will receive €46.35 as a minimum amount and €10 (10,000 x 0.001) in additional compensation, i.e. €56.35 in total.
These amounts are expressed in gross breakdown (that is to say, before deduction of management fees and social security contributions which amount to 10%).
If your livestream is broadcast on more than one platform, the minimum amount will be paid once and the number of views will be checked and aggregated by Sacem teams in order to calculate the additional compensation.
Paid livestreams will be subject to specific collection and distribution rules which will be specified later.
Period considered
This exceptional distribution will apply to livestreams broadcast from 15 March 2020 (date of lockdown start) until 31 August 2020.
The amounts for the livestreams registered between 15 March and 30 June 2020 will be distributed during the January 2021 distribution.
The amounts for the livestreams registered between 1 July and 31 August 2020 will be distributed during the April 2021 distribution.
Consult the Q&A to learn more about the distribution of livestreams
Published June 02 2020