Aloof and elegant, dazzling and sober: for four decades, Alain Chamfort has embodied a certain idea of 'chanson,' both secretive and sophisticated, gentle and caustic, private and public.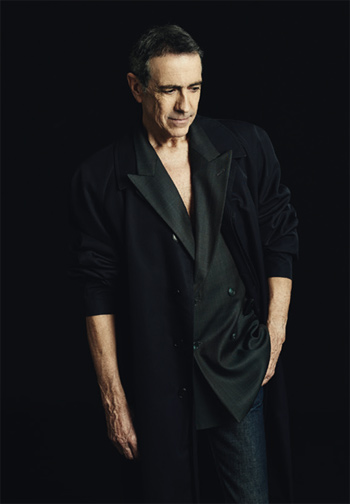 © Boris Camaca
He has forged his style throughout an exemplary career, in which he has survived fads and fashions, from Dutronc to Gainsbourg, including Dick Rivers and Claude François.
And, since a certain Manureva, he set out on a musical voyage which is still buoyant...
He could have been a virtuoso pianist or —why not?— composed classical music. Only, one day, a hit he heard on the radio instilled in him an irresistible yen to try something else: the first measures of Ray Charles' What'd I Say capsized his entire world.
At the age of thirteen, our young escapee from the Conservatoire joined his first group, the Dreamers.
Others followed, with equally exotic names —Shakers, Murators or Mods— between Pop and Rhythm & Blues, before Alain Le Govic (his birth name) sat down at his keyboard for a playboy who liked girls: with Jacques Dutronc, he discovered the fun and games of —often boozy— tours.

And he distilled his piano and organ accompaniment in the first songs by the creator of La Fille du Père Noël (Santa Claus's daughter).
Cloclo, star and tyrant
Paris awakens (Paris s'éveille), as did Alain, too.
Although he recorded his first singles under Dick Rivers' direction, it was with Claude François's label Flèche that he landed his first real contract.

Le Govic the pianist became sweet-voiced Chamfort with something of a teenybopper following. Alain remembers: "I was his [Claude François's] warmup act. I could see the hysteria around him, the fans, the glitter. His audiences were easy on me, because they knew Claude François was my producer."

But he could not be satisfied living and working in the shadow of Cloclo, the star and tyrant...
CBS Records finally gave him the artistic freedom he craved: in 1977, he even recorded an aptly titled album, Rock'n Rose, with the Toto rock band and Serge Gainsbourg.
Working with the author of La Javanaise which led two years later to a real hit: Manureva, both a jackpot (over a million sold) and 'bull shot' (Gainsbourg's favourite cocktail at the time, a kind of bloody mary).
Alain remembers: "At first, the song was supposed to be titled Adieu California, but I didn't like that. So Serge went back to the drawing board after dining with sailors who talked about Alain Colas's disappearance with his boat Manureva..."
What remains is air...
Having become the minstrel of 'new-wave pop' song à la française, Chamfort laid himself bare and came out with albums, between Secrets Glacés (Icy secrets) and Tendres fièvres (Tender fever), Trouble (Turmoil) and Plaisir (Pleasure), and finally met up with a loyal partner worthy of his songs: Jacques Duvall, a prolific Belgian bootlegger of verse, who became his official lyricist and whose texts further refined Alain's image as a discreet dandy below the surface, and made him a truly unique artist in every way in the landscape of French song.

In private as on stage, whether he performs acoustic duets with Elvis Costello's pianist Steve Nieve, organises an impromptu concert in the Luxembourg Garden or pays tribute to the couturier Yves Saint-Laurent.
As he says, in the title of his complete works released in 2007, 'what remains is air' (Ce qui reste, c'est l'air).
Songs in trompe l'oeil but musically appealing, whose titles we can rattle off tirelessly, from L'Amour en France to Grand Retour, from Bambou to Chasseur d'Ivoire, from La Fièvre dans le Sang to Traces de Toi, from Souris puisque c'est grave to Clara veut la Lune, without omitting L'Ennemi dans la Glace and Les Beaux Yeux de Laure, whose video clips earned him Victoire de la Musique awards in 1994 and 2005, respectively.
After an album of duets with female artists, Elles & Lui, Alain released in April 2015 his latest, eponymous, opus, as singular as ever.
With no less than sixteen albums to his credit, two of them live, Alain Chamfort is Chevalier de la Légion d'Honneur, winner of the Académie Charles Cros award for his life's work and, until recently Vice Chair of the Sacem Board of Directors, as well as a member of Collectif Paris Africa, instigated by UNICEF to fight famine.
"I'm nice, clean, well behaved and I wrote Manureva," he says ironically in the clip for his song Les beaux yeux de Laure. Too short a résumé. Alain Chamfort or the eternal romantic...
Express Bio
1972 Dans les ruisseaux, first single 45 released under the name Alain Chamfort
1979 Manureva, 1 million sold
2005 Impromptu dans les Jardins du Luxembourg, album recorded live and DVD
2015 Alain Chamfort, his latest album
Published January 25 2016